Community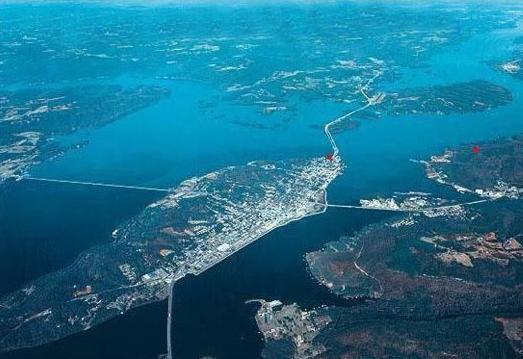 Aerial view of are surrounding Gunter's Landing
If you are looking for that perfect place – a small, Southern town atmosphere with all of the advantages of a larger city Gunter's Landing and the surrounding area has the best of all possible worlds. Gunter's Landing offers beautiful, natural settings, excellent schools, over twenty churches, many cultural and civic organizations, and excellent medical complexes. This area also offers excellent fishing, swimming, boating, skiing and over four miles of lighted walking trails along the lake shore.
Gunter's Landing and Buck Island are located on the southern most point of the Tennessee River near the City of Guntersville. Located in Northeast Alabama approximately 90 minutes northeast of Birmingham and 30 minutes south of Huntsville. The city of Guntersville is located on a peninsula in a valley at the foothills of the Appalachian Mountains at an elevation approximately 600 feet above sea level. Lake Guntersville is Alabama's largest lake with 69,000 acres of sparkling clean water. The shore line of Lake Guntersville encompasses over 900 miles.
Directly across the Lake from Gunter's Landing is one of the largest American Bald Eagle nesting sites in the Southern United States. Bald eagles begin to arrive in the area during the month of November and spend the winter months in and around Gunter's Landing soaring the skies, fishing the reservoir and roosting in the tall pines along the mountain tops.
Visit Lake Guntersville Chamber of Commerce for additional community information.